Horrible Harry and the Green Slime
Written by Suzy Kline
Illustrated by Frank Remkieicz
Reviewed by Sam N. (age 8), John D. (age 9) & Patrick D. (age 9)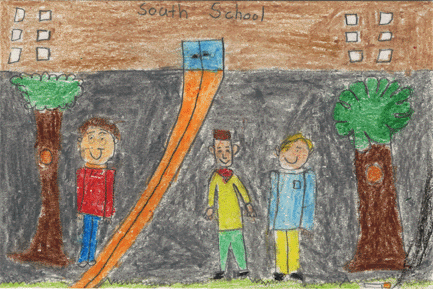 Harry likes having a best friend like Doug and loves playing jokes on people. South Side School must be an exciting place to learn because of all of the adventures they have. Like when they have secret pals in Miss Mackles room and Harry gets really mad at his best friend Doug. Will they lose their friendship forever? Or the day when Mr. Cardini finds a cigarette on the school property and expects all of the teachers to do something against smoking. Miss Mackle and the class decide to do skits. Harry and Doug are in the same group performing a skit. Will Harry and Doug make good kings in the play or will they flop? Or how about the day they had the invasion of the cobwebs. "What is the meaning of this?" said Mr. Cardini, pointing to the bloody spider. Will Miss Mackle's class be in big trouble? Or do you want to learn how to make GREEN SLIME? If you have a best friend then maybe you will enjoy reading this exciting book.
WOW! This book was hysterical. Especially the time Harry and Doug had the deadly skit. I (John) though the best character was Horrible Harry because he is a very adventurous person. I (Sam) think Doug is the best character because Doug and Harry's friendship reminds me of my friendship with my friend Dylan. I (Patrick) liked Miss Mackle because she is a nice teacher and she does a lot of fun activities.
We enjoyed this book and we think it is a great read for First through Third Graders. The pictures are amazing because it looks like the characters come to life and the things around them look really real. If you like to read about school and the funny things that happen with kids, you'll like reading Horrible Harry and the Green Slime.