Here Comes the Strikeout
Written by Leonard Kessler
Illustrated by Leonard Kessler
Reviewed by Jason R. (age 9)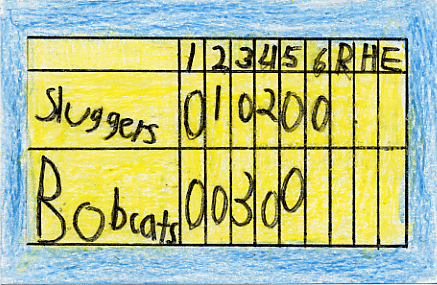 This story is about a boy named Bobby. Bobby was good at fielding. He was good at pitching. He could run fast, but Bobby kept striking out. He felt sad when he struck out. Bobby asked his friend Willie for help. Willie helped Bobby with his hitting. Willie told Bobby that he must work on his batting every day. With practice Bobby gets better and better at hitting the ball.
One day Bobby's team, the Bobcats played the Sluggers at the big game. The score was 3 to 3. It was Bobby's turn at bat. To find out what happens you should read this book.
I like this book because it was about a boy who always struck out and how he got better at baseball. It was sad for Bobby to strike out. It feels good to be able to hit the ball for your team.
If you like to play baseball, you would probably like this book.