Sit Still
Written by Nancy Carlson
Illustrated by Nancy Carlson
Reviewed by Joel A. (age 9)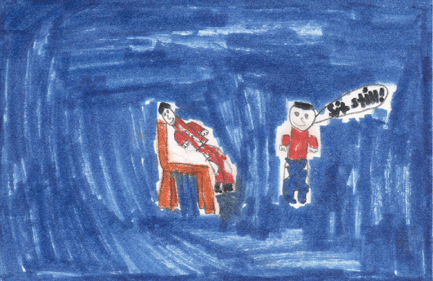 The story is about a boy who can't sit still. His name is Patrick.What happened in the story was that the parents took him to the doctor but the doctor didn't do anything. Everyone kept Patrick busy. The story took place everywhere like in the school and in the house. The main character is Patrick. Everybody tells him to sit still and he doesn't. The lesson to be learned from the story is to be careful by how you sit.
My favorite part of the story is when Patrick kicks the doctor on the head by mistake because he did not sit still. What I learned from the story was that if you do something a lot you will get used to it. The story reminds me of the time I tipped over my chair and I fell. I think the pictures are really nice. What is special about this book is it teaches a very good lesson.
The boy who will like this book is my brother because he doesn't sit still. If he reads this he will learn a lesson. Other kids should read this book because it teaches them to sit still because they could have an accident. I will recommend it because they will learn to be safe.