Down On The Funny Farm
Written by P.E. King
Illustrated by Alastair Graham
Reviewed by Danny N. (age 7) & James G. (age 8)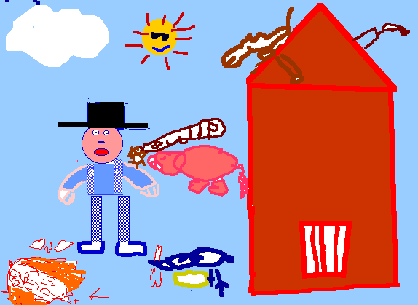 Once there was a farmer that didn't have a farm. So one day he went off to look for one. He found one where the man that ran the farm didn't want to work anymore. So the farmer who was looking for a farm took his place. He bought the farm for one dollar. It was a very funny farm. All the animals were in the wrong places. The horse was on the roof crowing and the cat was pulling the wagon!
James enjoyed the mixed up animals on the farm. Danny liked finding out that the farmer who bought the farm married the daughter of the farmer who sold the farm.
We recommend that you read this book if you like farms and very funny animals.