Trolls Don't Ride Roller Coasters
Written by Debbie and Marcia Thorton Jones Dadey
Reviewed by Chris W. (age 10)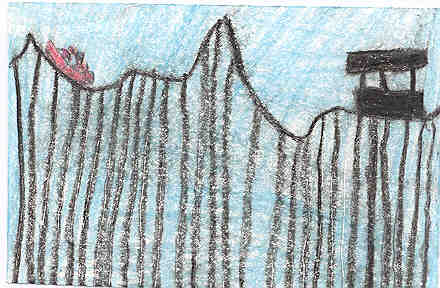 This book is about Eddie, Howie, Liza, and Melody that have met a troll that is trying to make the world silent. In this book Eddie, Howie, Melody and Liza are at the fair and Eddie wants to go on a roller coaster called The Monster, the first time they get on it there is a short, red headed lady on it with them and the whole time the lady is plugging her ears. When the roller coaster gets to The Tunnel Of Doom suddenly the roller coaster stopped and there was an evil laugh finally a worker comes and guides them down a three-story ladder. Eddie was really sad then he saw the poster for the strongest kid contest. After that - well I guess you have to read the book to find out what they do next.
I think this is a good book to read if you don't have any thing you are reading, it is a mystery, scary and comedy it's very interesting at the end. I really like this book because it is hilarious. Eddie reminded myself of me because he really likes roller coasters and so does he. This book is part of The Bailey School Kids series. It is really like the other Bailey School Kids books because they all have Eddie, Howie, Liza, and Melody, they all are funny, and because the kids are always having weird days.
I recommend this book to people who like funny books and to people who like The Bailey School Kids series.