Play Ball, Amelia Bedelia
Written by Peggy Parish
Illustrated by Wallace Tripp
Reviewed by Steve I. (age 8), Kee Yeon W. (age 7) & Dana T. (age 8)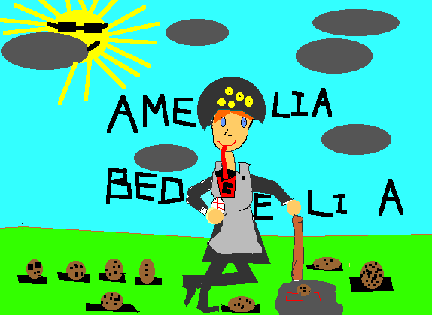 Amelia Bedelia wants to fill in for the sick teammate in the Grizzlies. His name is Donny. So the other teammates started to practice for the big game. Amelia Bedelia was doing a messy practice. She was swinging the bat before the ball was coming. The team started the game with Amelia. Then they told Amelia to be the score keeper but she didn't want to.
Steve and Kee Yeon like this book because they like to play baseball. We think Amelia Bedelia is really a backwards person. I (Steve) think I can understand much better than Amelia Bedelia eventhough I don't know how to speak English very well.
We would recommend this book to someone who likes to play baseball. Kee Yeon would recommend this book to people who want to learn how to play baseball. Someone who likes to help others might want to read this book because Amelia Bedelia in most of her books, likes to help out. Steve thinks that someone who likes funny and silly books would like Play Ball Amelia Bedelia and other Amelia Bedelia books. Other Amelia Bedelia books that we like are Come Back Amelia Bedelia, Good Driving Amelia Bedelia and Amelia Bedelia and the Surprise Shower.