The Secret Garden
Written by Frances Hodgson Burnett
Illustrated by Tasha Tudor
Reviewed by Laura B. (age 9)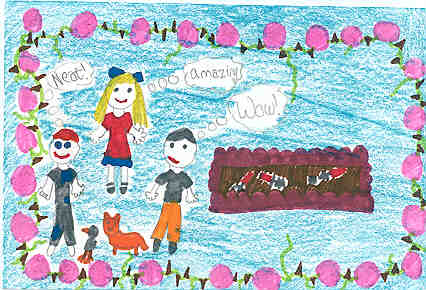 The Secret Garden is about a young orphaned girl named Mary Lennox who was born in India. When Mary was young, she made her Ayah, or her servant, do everything including dressing her and waiting on her hand and foot. Because she was born in India, Mary's color was quite yellow and she was stuck up, bossy little girl who hated everyone and everything, and everyone hated her. When she moved to the Yorkshire moor area in England to live with her uncle, she found out about something that would finally keep her interest. Then all of a sudden, she finds a hidden, walled, and locked garden that has been forgotten for 10 years with the help of her friend - a robin. Now, would all of the plants be dead, or could Mary restore the life of a once magnificent garden?
I personally liked this book for quite a few reasons, mostly because of the way at the end of every chapter, it is as if you are hanging from a cliff. You might be wondering what I mean. Well, it's like you are standing on a cliff in the beginning of a chapter, and as you get closer to the end of the chapter, you look forward to what will come in the next chapter and get closer to the edge of the cliff. Then, at the end you were so curious, that you would find yourself dangling from the edge of the cliff. Anyway, my favorite part was when Dickon brought all of his "creatures" to show Mary. He brought a crow named Soot, a fox named Captain, two squirrels named Nut and Shell, a newborn lamb, a baby rabbit, and a moorland pony named Jump. And also, after Mary discovered the garden and became friends with Dickon, that once-rotten-minded, nasty-tempered girl somehow shifted into a softer-hearted little 10-year girl. Everyone thought it was from the moor's fresh air, but no one knew about Mary's new wonder - the secret garden.
I recommend this book (even though the book says 9 and up) to at least ages 10 and up, and probably toward the end of 4th grade. I say this because of slightly harsh language and hard to understand Yorkshire language. I also think this book would be good for boys and girls. Thanks for reading my book review.