The Case of the Cool-Itch Kid
Written by Patricia Reilly Giff
Illustrated by Blance Sims
Reviewed by Melissa H. (age 9) & Alyssa P. (age 9)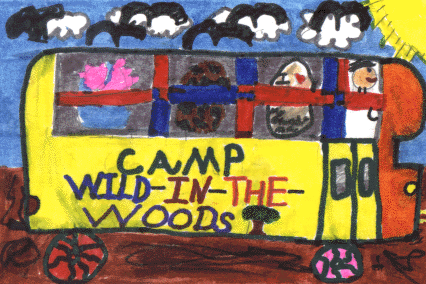 Have you ever gone to camp and someone took your things? Dawn went to camp and lost her shell mirror, her favorite pin, and someone ate part of her cookie! She thinks that it is the one person that is always taking everyone else's stuff. She wants to get to the bottom of this, but... SHE LEFT HER DETECTIVE KIT AT HOME! She went ballistic when she found out that she couldn't use her detective kit. She wrote a letter home telling Noni, her grandma, that she wants to come home because she doesn't like camp. She used Lizzie Lee's paper without asking. Lizzie found out that Dawn was using her paper without asking. Luckily, she didn't get mad because she too is a detective. Dawn and Lizzie decided to work on this case together. You will have to be the next detective to find out who ate the piece of Dawn's cookie, broke her shell mirror, and Dawn's favorite pin when you read this book!
Our favorite part of the book was when Lizzie and Dawn went to the camp bus in the dark looking for Dawn's shell mirror and they heard a strange noise followed by a SCREAM because they worked together as friends even though they used each other's things without asking. We liked the beginning of the story because we also give our parents a hard time about going to camp! We liked the book because we enjoy solving mysteries and we like Dell Young Yearling books. In every Dell Young Yearling book Dawn Bosco is in each of the books and always solves the mysteries in them. Also, in all the books, she finds new friends in the books and solves mysteries with them.
As we read the book we wanted to know the end, because we wanted to know who was behind the mysteries.
We recommend this book to kids who are beginning readers and almost advanced readers. People who like to solve mysteries should read this book. This is a great book for children all over the world to share with their families everywhere. If you see any of the other Dell Young Yearling books, pick them up and read them. Also, if you see them at a bookstore, ask you mom and dad if you can buy them. There are so many varieties to chose from you will never stop reading them. You will also keep learning, learning 'till you can't learn any more.