Jigsaw Jones and the Case of the Runaway Dog
Written by James Preller
Illustrated by James Preller
Reviewed by Brian Z. (age 8) & John H. (age 8)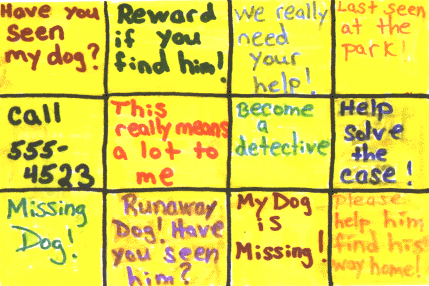 Jigsaw lost his dog around Thanksgiving time. Jigsaw's teacher asked the whole class to make a list of what their thankful for. Jigsaw stays late after class and asked the teacher, "Can I have a different assignment because I'm not feeling very thankful. My dog ran away." The teacher said, "It doesn't matter everyone is thankful for something." Jigsaw can't stop thinking about how he lost his dog and this is how...
Jigsaw and Ralphie were pretending to be the Native Americans and Rags was the turkey. Jigsaw and Ralphie were chasing Rags with sticks then Rags ran up and over the hill. Jigsaw and Ralphie ran after him but as soon as they got to the top Rags was out of sight. Will they find Rags? Will Jigsaw get a new dog? Will Jigsaw become thankful for anything? Sniff this book out at your nearest library.
We both liked the book and think it has descriptive writing. This reminds Brian of when he lost his cat but he never found him. This reminds John of when he lost his pet lizard and found him the next day in his sister's room.
The book kept us interested because we wondered what was going to happen next. Jigsaw changed. He started out not thankful and ended up thankful.
We recommend this book to people who like mysteries and to people who have lost something.