Mary Kate and Ashley: The Case of the Volcano Mystery
Written by Mary-Kate Olsen
Reviewed by Grace H. (age 8) & Marley S. (age 9)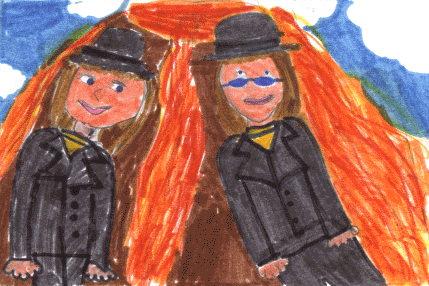 Have you ever experienced a volcano eruption? Hopefully not, but... Mary Kate and Ashley have in their book, The Case of the Volcano Mystery. The mystery started in the jungle of Mexico. They were visiting their friend Freddy. He owns a plant farm. Matt, the scientist, told them, "You two should hike to the top of this mountain. You'll find some very surprising plants there with a very surprising problem." "What kind of plants?" the girls asked. "Ah-That's the mystery," Matt teased. "Come see me after you've solved it!" Mary Kate and Ashley went to the middle of the mountain and met three miners. Their names are Doc, Duck, and Duke. Doc, Duck, and, Duke told Mary Kate and Ashley that there is a monster at the top of the mountain. The girls didn't believe them, but they decided to walk the rest of the way up the mountain with the miners anyway. When they were almost at the top, they noticed the silvery snow on the ground and the ground began to shake! The three miners said, "Watch Out! The monster is going to throw snowballs at us." The silvery snow began to fall on top of them. They thought they were getting hit by snowballs, but they were not sure. They said, "It is not cold like snow, it does not pack like snow, and it does not melt like snow!" Read this book to find out what the silvery know is and where it is coming from!
We like this book because it teaches you about volcanoes and different kinds of plants that live near volcanoes. These plants bloom when ash comes out.
If you like the Olsen twins, maybe because you saw them on T.V. or you have read other books with them in it, then we think you will like this book as much as we did. If you don't mind having to figure out the ending of a story without the author telling you, then you will be happy reading this book.
We recommend this book to people who are interested in volcanoes and solving mysteries. We also recommend this book to readers who can't read because they can enjoy the book by having someone read it to them.