Mummies Don't Coach Softball
Written by Debbie and Marcia Thorton Jones Dadey
Illustrated by John Gurney
Reviewed by Luis M. (age 9) & Akshay B. (age 8)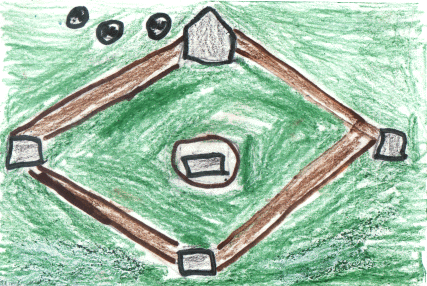 Have you ever had a mummy for a softball coach? Well, the Bailey Batters had a mummy for a coach. The Bailey Batters had won 4 games and this was their 5th game but this one was really;y hard to win because they were playing the Sheldon Slammers at Antwerp Field. The Bailey Batters had never won at Antwerp Field. They were looking for their Coach Ellison when a person came up and told them that Coach Ellison would not be coaching. Later, one of the players moms said that Coach Ellison won a cruise . Eddie whispered to Lisa, "This guy looks like a mummy." A few minutes later, Howie said, "We have no chance of beating the Sheldon Slammers." While they were talking, the Sheldon Slammers scored another home run to make the score Sheldon Slammers - 6 and the Bailey Batters - o. The new coach's name was Coach Tuttle. He brought the team over near him and taught them some batting techniques. But the bats slipped out of his hand and hit the coach of the Sheldon Slammer's car. The coach postponed the game because his car was busted. Lisa thought the Bailey Batters' new coach might be a mummy because he had injuries and bandages around his feet , arms and head. You'll have to read this book to find out if the Bailey Batters could come back and win the game and if the Bailey Batters' new coach is a real mummy.
This book has all different kinds of characters. One of them is named Eddie, he has a sense of humor. Another character, Lisa uses her common sense. Another character, Howie, didn't say much in the book. Medoly tries to help Coach Tuttle the most so she is the most helpful.
I (Akshay) think that Lisa went overboard about Coach Tuttle being a mummy because she was with him for about only 15 or 30 minutes. This book is different from other books because the characters look and act different. Like Coach Tuttle hurts himself and made Lisa think that he was a mummy. That is why I really like this book.
My (Akshay) favorite part was at the end when the team gets together with Coach Ellison but if I tell you the next part, I will tell you the ending.
I (Luis) think that this is a great book and was a very fun book to read because the characters were all different so you could see what the characters do. I also like the book because I like mystery book and this was a very interesting mystery book. You have to use your common sense to figure out the mystery.
I (Luis) wonder how Coach Tuttle got into Bailey City if he was a mummy. I also wonder how he was a friend of Coach Ellison, the team's original coach that went on a cruise. The last thing I want to know is if the Bailey Batters went on to beat the Sheldon Slammers since their game was postponed?
We recommend this book to people that like mystery books. We also recommend this book to people in 3rd or 4th grade because this book is not too hard or not too easy. We recommend this book to people who like to use their brains to solve mysteries in books. We recommend this book to people who like to see each character do different things. We also recommend this book to people who can picture everything that is going on in the book.