The Rough-Face Girl
Written by Rafe Martin
Illustrated by David Shannon
Reviewed by Katie Y. (age 9), Dylan W. (age 9)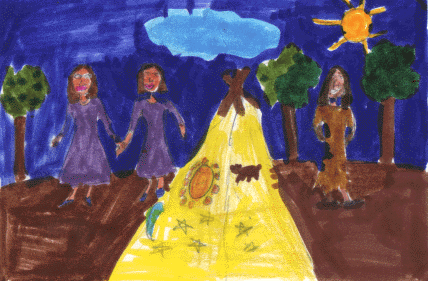 Did you ever wonder what it would be like to be picked on all of the time? Well, the Rough-Face girl gets picked on by her older sisters to make her feel bad. Her sisters ask their father for beads, buck-skin dresses, and moccasins to wear to marry the Invisible Being. The Invisible Being could only be seen by the girl he was meant to marry. The Being's sister was the judge. The people in the village said that the girls shall marry the Invisible Being because they were dressed up. But the sisters didn't really see him. They were just making things up. The Rough-Face girl asked her father for the same things as the sisters. But, he only had enough for them. She said, "Whatever you can spare, I can use." Then she strung a necklace, made a cap, dress, and leggings and molded moccasins to fit her. Everybody in the village laughed at her. But it doesn't matter what's on the outside. It matters what is on the inside. That's why she turns out to be the only one who can see the Invisible Being. She went to the wigwam. You have to read the book to find out the rest. One of the big ideas was that the Rough-Face Girl was very kind and her sisters were not kind. She wasn't treated nicely.
We think the book had realistic illustrations because we think David Shannon did a great job. We think Rafe Martin did a great job because the book hooked our attention. Our favorite character is the Invisible Being because nobody can see him but he is so powerful. Our favorite page is the one with the Invisible Being using an arrow because we like the picture. This book reminds us of Cinderella. We picked this book because we didn't read this book a lot before. The lesson we learned is that it doesn't matter what is on the outside. What's on the inside is what matters.
We recommend this book to people who like fairy tales. Katie thinks any kind of person should read this book because it is great for all ages. Dylan thinks people that like Native Americans should read this book and people who get teased. We both think this book is great.