A Picnic in October
Written by Eve Bunting
Illustrated by Nancy Carpenter
Reviewed by Bobby H. (age 8) & Jesse M. (age 8)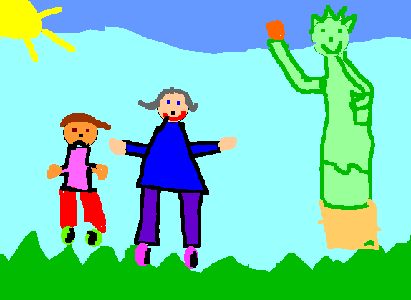 Have your parents or family ever wanted you to go somewhere that you didn't want to? Because Tony (the main character) definitely doesn't want to go to Liberty Island to celebrate Lady Liberty's birthday. But Tony doesn't have a choice. His grandma was a new American and she forces him to go. It is like Liberty Island is Tony's worst enemy! They go every year. Tony doesn't understand what the Statue of Liberty means to his grandma and what she felt when she came to America. He doesn't understand what it stands for. Tony's grandma thinks Lady Liberty is such a big deal. And Tony doesn't know why it's so important. He is embarrassed if he is just seen looking at Lady Liberty or just blowing out the candles on the cake for Lady Liberty. In the end Tony realizes something but we can't tell you what he realizes. Throughout the book someone changes a little bit on every page. Could it be Tony's feelings are changing? Could it be he's liking the picnic worse and worse? Or could it be that he likes Liberty Island more and more? Or is Grandma changing her feelings?
We like this book because of the illustrations, the colorful language, and we liked the story. We like the illustrations because they look like the paint is almost just drying. We felt just like Tony did throughout the book, and I (Bobby) have experienced some of those feelings in my life. Our favorite part is the ending. Throughout the book we wondered if anything changes at the end and we thought you might wonder that, too. We thought that this book is kind of realistic fiction. We learned a lesson that if you go somewhere or do something that you didn't want to your feelings might change. But remember, we said MIGHT!
We recommend this book to kids who like surprising books. If you want to find out what happens at the end, read this book.