Camille and the Sunflowers
Written by Laurence Anholt
Illustrated by Laurence Anholt
Reviewed by Ashley B. (age 7) & Allison K. (age 8)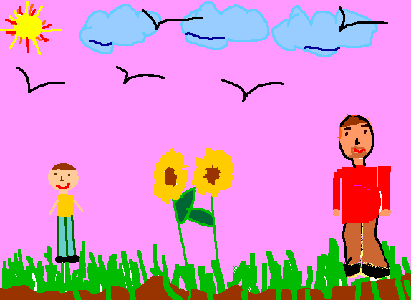 Have you ever been disliked? The author wrote about a man who was disliked. The man's name was Vincent Van Gogh who is a talented artist and a real person. Vincent's friend Camille lived by a patch of sunflowers that were as bright as the sun itself. Camille and his father noticed that Vincent was poor and that he looked different than them. One day all of the kids from Camille's school threw rocks at Vincent because he looked strange and they thought that he needed a better job instead of just painting all day. Camille got very sad and he ran down to his father in tears because he thought Vincent was a nice guy and the kids just needed to get to know him more.
That night Camille had a strange dream that Vincent drew a marvelous picture of the stars at night. One morning there was a terrifying knock on the door that woke Camille up. It was a few people from the village. They brought a note for Vincent. The note said "You must pack up your paints and leave our TOWN!" Camille thought the people needed to think a bit before they sent Vincent packing.
While we were reading the book we noticed how Vincent must be feeling inside. We wonder if you were Vincent, how you would feel if you were disliked. We both think that Camille is a very nice boy because he made Vincent feel at home and good inside.
You should read this book because you will learn you shouldn't judge a person until you get to know him or her.
The illustrations look realistic enough to think that Vincent drew the book himself.