My Great-Aunt Arizona
Written by Gloria Houston
Illustrated by Susan Condie Lamb
Reviewed by Heather L. (age 7) & Julie K. (age 8)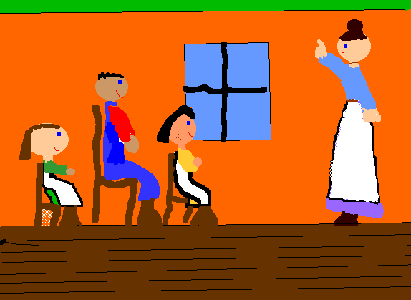 Do you have a great aunt that is special to you? Well, this story is about a great aunt who was special to the author who wrote this book. It is about a girl born in the meadows on Henson Creek. First Arizona is a baby, then she grows older and older in this book. Arizona liked to sing and dance to the music of the fiddler on Saturday night. But most of all she like to read and dream about the faraway places she would visit someday. Her mom died and she had to stay home and take care of her father and brother. One day her Aunt Suzie invited Arizona to help with some chores. Aunt Suzie made Arizona work very hard. When Arizona came back she was a teacher. Arizona taught in the school that she used to go to. All her students liked her. They thought she was a very nice teacher. Instead of visiting other places, she stayed where she was born. And when she was a teacher she told her students about the faraway places.
This book tells that someone special can mean a lot to you. My favorite character was Arizona because it reminded me about my mom because she's always happy, and friendly, caring, and she does lots of nice things (Julie). All of Arizona's students are like her children and she takes care of them! My favorite character was Arizona because she reminds me of me (Heather)! I like to dance and read and sing. I care about other people. We really liked the illustrations because they show what the place where she lived looked like.
We recommend this book to somebody who thinks one of their relatives are special.