The Boxcar Children- Mystery Ranch
Written by Gertrude Chandler Warner
Reviewed by Lauren V.T. (age 10)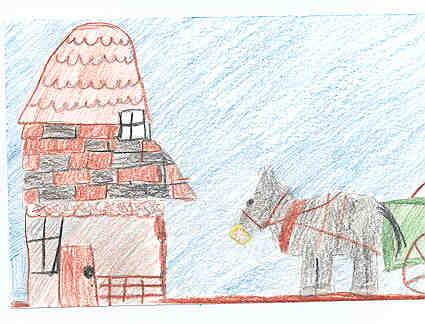 The Boxcar Children's Aunt Jane owns a valuable ranch. Their Aunt is having a little bit of trouble handling and taking care of the ranch. Aunt Jane is the children's Grandfather's sister. Grandfather and Aunt Jane have not gotten along with each other in years. Jessie and Violet sounded really interested in helping Aunt Jane with the ranch. Jessie and Violet decided to go to the ranch for the summer to help. While the two of them were there Aunt Jane like always was very cross like with any body. A girl named Maggie was there already to help Aunt Jane with the house. Jessie and Violet decided it was kind of lonely with just the two of them. At last they talked Aunt Jane into bringing their brothers to the ranch. So it was done! Henry and Benny came, even Watch there dog came too. While all four children were walking in the woods they discovered some mysteries. Do you suppose they will solve those mysteries? Learn more by reading Mystery Ranch.
I enjoyed this book because there are lots of mysteries you can look forward to. I like a lot of Boxcar Children books but I think this is one of my favorites yet. I also enjoy Mystery Ranch because it showed teamwork and taught me a lesson to always work as a team and you will get it done faster.
I recommend this book for people who have enjoyed The Boxcar Children before. I also recommend this book to people who enjoy mysteries and an adventure to discover. I think this book is worth reading for kids who spend most of their time reading and for kids who can't set a book down.