Scooby-Doo and the Vampire's Revenge
Written by James Gelsey
Reviewed by Anthony D. (age 10)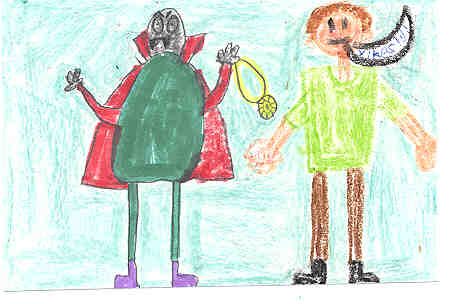 One day Scooby-Doo and the gang; Shaggy, Fred,Daphne, and Velma where driving the Mystery Macine to the Brick Stone Hotel. They were going to help with the charity auction. While they were all going through the revolving door Scooby was stuck spinning around. Then a man dressed like a cowboy helped Scooby get out. Scooby thanked the man for helping him. Then a man came and yelled "BOO"! Scooby jumpped into Shaggy`s arms. The man said his name was Rock Brickstone, the owner of the hotel. He told them the auction was about to begin and that they should start unpacking the boxes. After that Shaggy found a Madallion. Then a man dressed like a vampire told them that it was the Crostini Madallion and it was cursed. After the man left boxes fell and there stood a vampire. He stole the madallion. To find out who the vampire is read the book.
My favorite part was when they found out who the villain was because it was exciting. I liked this book because it was funny and exciting.
I recommend this book to people who like Scooby-Doo. I also recommend this book to people who like mystery stories.