The New Adventures of Mary-Kate and Ashley: The Case of the Haunted Camp
Written by Nina Alexander
Illustrated by Nina Alexander
Reviewed by John B. (age 7) & Elizabeth E. (age 8)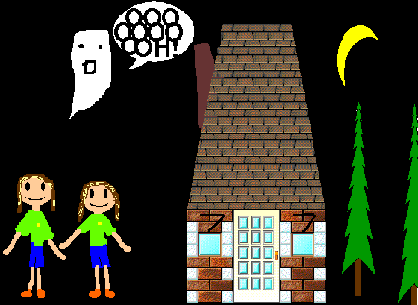 If you like mysteries this is a great book for you. It is about two girls named Mary-Kate and Ashley. When they go to Camp Big Bear there is a problem. There is a ghost in their camp. The ghost lives in cabin seven.
The ghost?s name is Emma and she loves the tire swing. She makes this sound when she's on the tire swing: ?Creek, creek, creek.?
This book is grreat because they solve their problem about the ghost. This book reminds us of when me (Elizabeth) and my partner John go to the YMCA camp. This book reminds us of the book Berenstain Bears Go to Camp because they go to camp and they?re scared.
We recommend this book to people who like scary stories.
This book taught us a lesson. The lesson is when you do something bad to people they might do something bad back to you.