No, David!
Written by David Shannon
Illustrated by David Shannon
Reviewed by Candice C. (age 6), Alisha A. (age 6)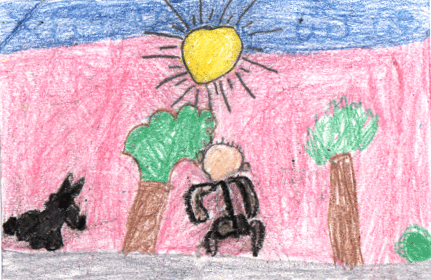 David's mom said, "No, David!" because he does things his mom doesn't want him to do. He writes on the wall. He walked in the house with dirty feet. The mud got all over the floor. David makes too much noise by banging pots and pans. David plays baseball in the house and his mom didn't want him to break something. David's mom told David, "Don't play with your food!" Every time his mom says, "No!" to David except one time when she says, "Yes, David." We want you to find out by yourself, so read this book.
We like the book because it is funny. David went outside with no clothes on! The illustrations make us laugh. We think David's mom told him not to play with his food because his hands are dirty and he will have a stomach ache if he eats with his dirty hands. This book reminds Candice of when she was little and wrote on the wall just like David! We want the author, David Shannon, to write more books. His name is David just like the character in the book. We think the book is about him when he was little.
We think little kids would like this book. We recommend this book to children in preschool, kindergarten, first grade, and second grade. This book is easy for kids who are learning to read because it's a short book with easy words. It's full of pictures and only a few words!