Heckedy Peg
Written by Audrey Wood
Illustrated by Don Wood
Reviewed by Meghan O. (age 6), Eliza D. (age 6)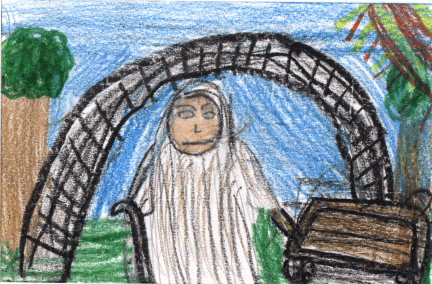 Once there were seven children named Monday, Tuesday, Wednesday, Thursday, Friday, Saturday, and Sunday. One day the mother went to market and left the kids home. The kids played while the mother was away. The mother said that they could get anything that they wanted and the mother would get it from the market. The children were happy and excited. They knew exactly what they wanted. For example, Monday asked for a tub of butter. Tuesday asked for a pocket knife. Every child asked for something special. The mother went to the market to buy the things that the children wanted. When the mother was gone, a witch came to their cottage and said, "I'm Heckedy Peg. I've lost my leg. Let me in!" The children said, "No. We're not going to let you in. Mother told us not to let a stranger in." The witch told them that all she needs is a light for her pipe. Even though their mother told them not to play with fire, the children decided to let the witch in and give her burning straw to light her pipe. Now the trouble began! The witch turned the children into food and took the food home. We wonder what you think will happen next. You could find out by reading this book.
We like the illustrations because Don Wood used a lot of detail. The illustrations are really good because Don Wood made the pictures look realistic. Our favorite character is Heckedy Peg even though she's mean. We also like the mother and the character named Friday. Our favorite part is the ending and the part when the witch said, "I've got you!" We also like when the witch said, "I'm Heckedy Peg. I've lost my leg. Let me in!" We like Heckedy Peg's witch voice. We like this book because the ending is very funny. You will find out why it is funny when you read this book. When we first read this book, we wanted to know what was going to happen next. We were shivering so much because it was scary and we wanted to know if the children turned back into themselves.
We recommend this book to children who are 4 - 10 years old. We think children who are 3 years old or younger will be too scared. We also recommend it to people who like fiction books and witches.