Two of a Kind: Now You See Him, Now You Don't
Written by Megan Stine
Reviewed by Natalia D. (age 11)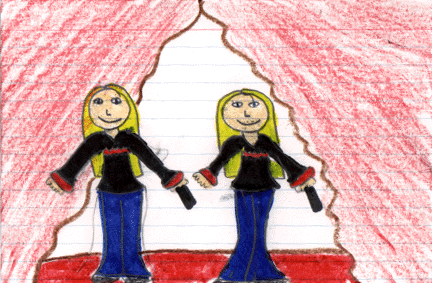 Now You See Him, Now You Don't is about twin girls named Mary-Kate and Ashley. These two girls face a lot problems. It all starts when they decide to enter a magic show. They have great tricks for the show, but they soon discover they've brought the wrong horse for the show. Both horses are named Sugar, but only one knows the magic trick. Do you think it could get any worse? You'll have to read the book to find out.
I like this book because it was funny and surprising in parts. The surprising part is when the twins realize they have the wrong horse, and one of funniest parts is when Ashley gets left in the magic box. Ashley screamed because she could not get out, and it was about ten minutes before her partner realized he had left her inside. That was my favorite part of the book. Now You See Him, Now You Don't is number twenty-one in the Two of A Kind series. All of the books in the series have Mary-Kate and Ashley as characters in the stories. There is also a TV show about them.
I would recommend this book to girls eight and older because the main characters are girls, and they do things most girls like to do. I think you should begin with the first book in the series because the next book picks up where the previous one left off.