An Angel for Solomon Singer
Written by Cynthia Rylant
Illustrated by Peter Catalanotto
Reviewed by Joseph K. (age 7)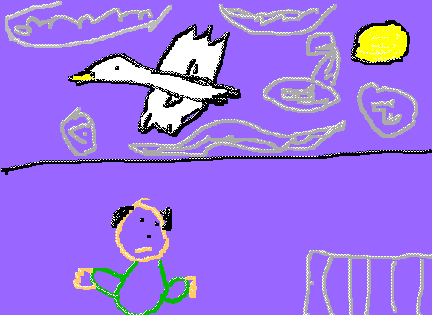 Did you ever have your dream come true? In this book there was a man whose dream came true. Solomon Singer was lonely and sad. One day he went to the Westway Cafe. The menu said "The Westway Cafe - where all your dreams come true." The waiter's name was Angel. The waiter was so nice that Solomon Singer came back every day. After awhile Solomon Singer began to feel happy and not lonely.
This story shows that the kindness of one person can change the feelings of another. I like the book because it's about how kindness changes sadness. I think the illustrations are good because there were beautiful colors and the pictures showed Solomon's feelings. My favorite character was Solomon Singer because he reminded me of me when I am sad. My dad is like the waiter because he makes me happy.
I recommend this book to boys and girls that like stories of kindness and imagination. This book is an ALA Notable Children's Book and a Child Study Association book of the Year. If you like Cynthia Rylant books you might like this book.