Mermaids Don't Run Track
Written by Debbie Dadey
Illustrated by John Steven
Reviewed by Daved A. (age 10)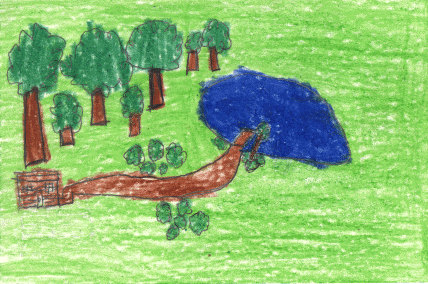 Have you ever thought your counselor was a mermaid? Well one day Eddie, Liza, Melody and Howie went on a field trip. They went to Camp Lone Wolf. They saw Mr. Jenkins, and Miss Waterford was a new counselor. They run track every day, and while they run track they sing songs. One day they went to the docks to swim. One day Mr. Jenkins, Eddie, Howie, and Melody got in the lake, Liza didn't get in the lake. Eddie splashed water at her. Then Eddie pulled Liza in the lake and made a big splash. Then Miss Waterford came to the docks. That night Miss Waterford sang songs with the campers. Then they heard Miss Waterford sing to Mr. Jenkins to lure him into lake. Will the kids find out if Miss. Waterford will turn Mr. Jenkins into a mermaid or not, read Mermaids Don't Run Track to find out.
This book is called Mermaids Don't Run Track. I liked this book because it was like a mystery. This book is a Bailey School Kids series. This book is similar to the others because it is by the same author. It is different because it's a different mystery.
I recommend this because I think it is interesting. If you like Bailey School Kids series you will love this book.