The Legend Of Rock, Paper, Scissors
Written by Drew Daywaly
Illustrated by Adam Rex
Reviewed by Abdullahi A. (age 8)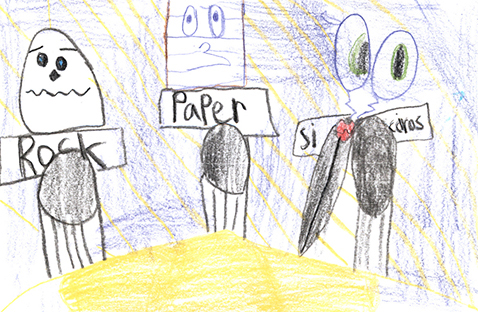 Rock, paper, scissors, shoot! Most people know Rock, paper, scissors as a fun game. But in, The Legend Of Rock Paper Scissors, by Drew Daywalt, the rock, and paper and the scissors are warriors!
There were three warriors that were borne. Rock came from a yard, Paper came from an office, and Scissors came from a drawer. No other Warrior could beat them. Rock battled clothespins, apricot, he beat every enemy in the backyard. Paper battled a printer and a bag of trail mix, he beat every enemy in the office. Scissors battled a roll of tape even chicken nuggets, but no one could beat him. What will happen when Rock, Paper, and Scissors finally meet?
In my opinion I think the story was outstanding. I like the pictures. For example the hill is orange and pink. I thought the book was funny. It was very funny when the Rock told the clip to put down some underwear. The characters were good. I like that Paper is smart. I also liked that all of the characters are strong.
I recommend this book for kids who like adventures and also to people who like books with warriors and battles..
This is a great book.
I give this book a five star rating!