The Magic Tree House: Ghost Town at Sundown
Written by Mary Pope Osborne
Illustrated by Sal Murdocca
Reviewed by Mateo O. (age 9)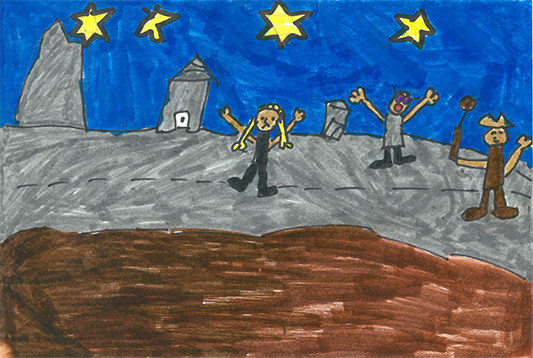 Do you like solving mysteries? Then this book is for you. Jack and Annie were sitting on their porch. Jack was reading his book and Annie was looking at a pond. Annie saw a frog and Jack saw a paper. It said finish this riddle on it.
They went to the tree house and it spun and spun around until everything was still. Then they saw a desert with a graveyard. Jack and Annie were scared and frightened. They saw cowboys and went in a barrel to hide from them. Then the cowboys left the town. Jack and Annie got out of the barrel, then Jack said "We need two save that horse". Then out of nowhere a cowboy was pointing a six shooter at them. The cowboy said "Are you horse thieves? I am trying to find my horse" said Slim, the cowboy.
After a long time, Slim said "time to rest now". Jack and Annie said "We need to find the answer to a riddle". Jack thought of something. You'll just have to read the book to find out what happens next.
I liked this book a lot because I like action and adventure. Just like all the other Magic Tree House mysteries it is full of action. You never know where the treehouse will land! In this book I liked the part when Jack and Annie found out that Slim left the book, The Days of the Wild West behind. The dedication Slim wrote made me feel happy because it was a kind thing to do.
If you like mysteries and going back in time, this is the book for you. It is all about Jack and Annie saving their friends and completing hard riddles and saving people from dying. I recommend this book to kids 7-11 ages because it is a good book for big kids. I rate this book a 9-10 out 10 because it is good and sometimes mysterious.