Lulu and the Brontosaurus
Written by Judith Viorst
Illustrated by Lane Smith
Reviewed by Meghan S. (age 8)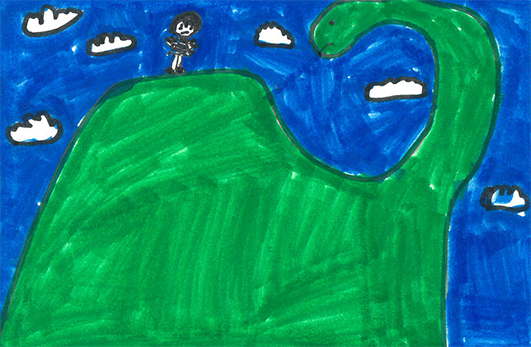 If you like mischief, comedy and crazy people then you are going to love Lulu and The Brontosaurus. Lulu's B-day is coming up and Lulu wanted a brontosaurus but her parents say no so Lulu storms off into the forest and disturbs every animal in there. Then Lulu finds a green brontosaurus but her parents say no but eventually Lulu storms off to find a brontosaurus, goes into the forest and disturbed every animal again in the forest. Lulu finds a green brontosaurus but they don't make friends.
If you are adventurous and silly then Lulu and The Brontosaurus is the book for you. I think it was funny when Lulu started screaming really loud but I feel really bad for her parents who had to hear the loud screaming. I know how I feel when my sister starts screaming. I love how Judith Viorst made everything Lulu did so vicious. Read the book to find out what big crazy thing LuLu does next.
I rate this book 9 out of 10 because LuLu is so funny and she is always doing crazy things.