Humphrey's Creepy-Crawly Camping Adventure
Written by Betty G. Birney
Illustrated by Priscilla Burris
Reviewed by Christopher G. (age 8)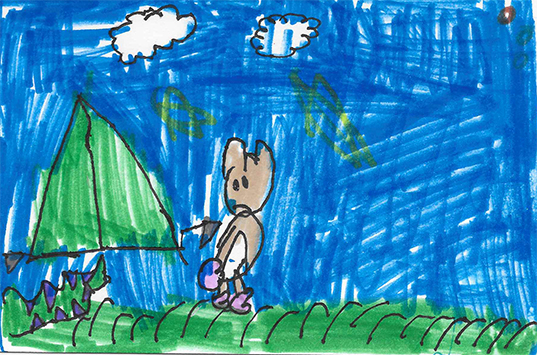 Humphrey's Creepy-Crawly Camping Adventure takes place in the backyard. Humphrey's in Room 26 at school while Mrs.Brisbane is telling them opposites. He overhears the boys talking about a camping trip. When the boy's put a snake near the tent, the girls got scared. The boys were playing tricks to ruin the girl's camping party. You'll have to read to find out why Humphrey is so scared of the snake.
Do you like camping? Then this is the book for you. For dinner Humphrey had celery sticks and carrots near the fire. It reminded me of the Halloween Party when we we ate outside next to the fire. For example, I liked the part when Humphrey saw the snake because It reminded me of Cub Scouts when we went on our hike in the woods. Humphrey made a big shadow to scare the boys off. I give this book 3 stars for camping and 4 stars for excitement and 5 stars for laughter.
I recommend this book to children ages 6 and up and that are in 3rd, 4th and 5th grader because it's a chapter book.