Ninja Cowboy Bear
Written by David Bruins
Illustrated by Hilary Leung
Reviewed by Clayton B (age 8)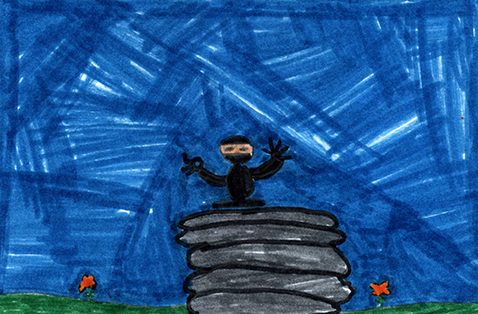 Have you ever read the book Ninja Cowboy Bear? In the beginning of the story, the bear and the ninja get into an argument over who is the best. The ninja and the bear ask a cowboy how they can settle the argument. The cowboy has an idea about how to solve it. He says they can have a rock building contest. The bear wins! All of the characters are better at something. Read the book to find out how Ninja, Cowboy, and Bear end their argument over who is the best.
In my opinion, I think the beginning of the story is good because of the contest. I like how the characters compete. For me, it was an exciting part to read. The illustrations in the book are pretty good. Younger kids will enjoy looking at the pictures.
I recommend this book to kids who love to compete in contests. This book is good for ages three to eight.
I rate this book 4 ½ stars out of five stars.