Lulu and the Brontosaurus
Written by Judith Viorst
Illustrated by Lane Smith
Reviewed by Sarina W. (age 8)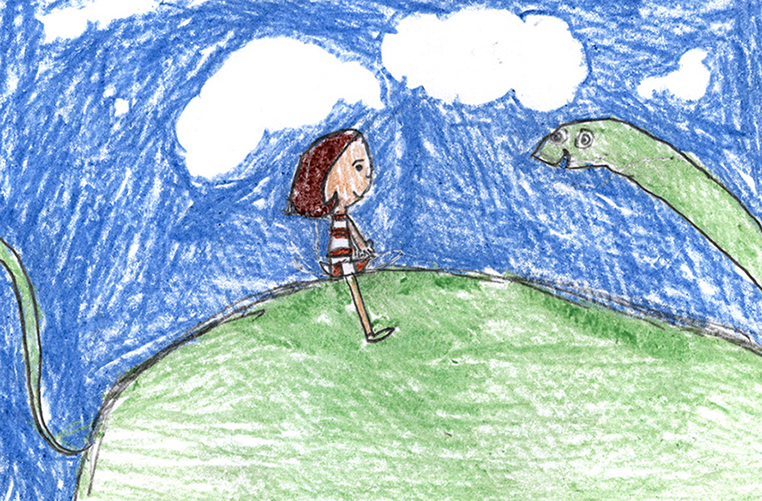 Lulu and the Brontosaurus by Judith Viorst and illustrated by Lane Smith is a book about a girl named Lulu that wants a brontosaurus. In the beginning, Lulu's birthday is coming up and she wants a brontosaurus as a pet for her gift. Sadly, Lulu's parents say "NO" when Lulu giver her request. So, Lulu decides to go out and get one herself. She tramples into the forest and meets a tiger, a snake, and a bear that want to hurt Lulu. Finally, she overcomes the animals and continues searching for the brontosaurus. Read the book to find out if Lulu finally gets the brontosaurus as her pet.
In my opinion, this book is something everyone should read. My favorite picture is one that shows Lulu riding on the brontosaurus's back. Also, the brontosaurus is carrying his friend Lulu to her house. I feel good about Lulu seeing the brontosaurus while reuniting with her parents. It shows that she learned this lesson: be happy with what you have. She is waving to her parents because she is glad to be back with them. My favorite part is when Lulu gets her way by taking on the dangerous animals! It shows Lulu's bravery and her perseverance to get a brontosaurus. For example, Lulu is about to be squeezed dead by a black snake. "I'll squeeze you deader!" predicted Lulu. While the snake is still coiled around Lulu and squeezing her, Lulu gives him a tighter squeeze. The snake yelps "OW!" and uncoils himself and slithers away as fast as he can. My favorite character is Lulu. The reason why is because I love her determination to get a brontosaurus. In the story, Lulu is wanting a brontosaurus for her birthday and her mom and dad say "NO!" so Lulu goes out, determined to get that brontosaurus. Once Lulu gets to that brontosaurus, does that really mean that she's found her pet? I hope you say the same thing when you read this book.
I would recommend this book to kids in grades 2-5 because the lesson it teaches is easy tell. Even if you don't get what you want, you can always get something else that you like. Also it is the perfect book for elementary students that read chapter books. I think this book would give them the best understanding of the story without confusion. I would give this book 4.8 stars out of 5. The reason why I wouldn't give this a 5 is because of Lulu's behavior and attitude in the beginning. Besides that, I think the rest is awesome. Please don't forget to read the life lesson teaching book Lulu and the Brontosaurus.