Melvin Beederman Curse of the Bologna Sandwich
Written by Greg Trine
Illustrated by Rhode Montijo
Reviewed by Nico V. (age 8)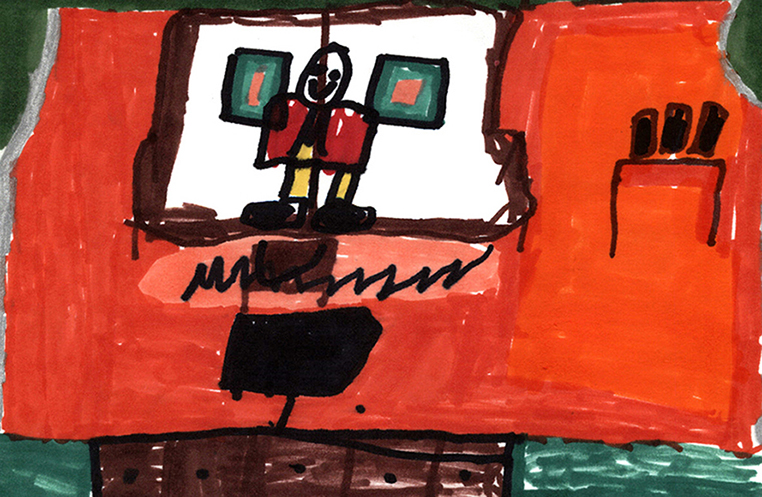 Melvin Beederman Superhero the Curse of the Bologna Sandwich by Greg Trine with art by Rhode Montijo is a book about a superhero that didn't feel like one even though he graduated at the top of his class from the superhero academy. In the beginning he found that he was headed to Los Angeles after graduation. Later that day, he spotted a treehouse and set up a place to stay. While in Los Angeles he was fighting crime here and there, but then his cape gets dirty and he has to bring it to the cleaners. Three days later he gets the cape back, but it is too small so it affected his super powers. Meanwhile the McNasty Brothers, bad guys, are out of jail and on the loose. One day Melvin spotted Candace with his cape and she helped him catch a purse thief. He realized that Candace had his cape. When he asked for it back, Candace was sad. He decided to take it to the tailor to make it into 2 capes. Together Candace and Melvin decided to conquer the McNastys. So off they went and then Melvin smelled something bad and knew it was the McNastys. Melvin told Candace to search the top of the building while he searched the bottom. The McNastys caught Candace with a bologna sandwich and then they caught Melvin. Read the book to find out if Melvin and Candace got out the building.
I really liked this book because there was so much action in it. I thought there was so much action because Melvin and Candace were fighting bad guys. One example was when Melvin saved a baby that was about to get rolled over by a monster truck. Another example was when Candace was taking Melvin's place and caught a purse snatcher on the loose. I thought there were many great characters in the book but the one that stood out most was Candace. I thought Candace was the best character because she was funny but she didn't mean to be. In her school play she knocked down a door by accident. Another reason is that she said funny things such as, "The only thing worse than word problems are vegetables." I had a lot of favorite illustrations, but the best one was when James, Melvin's classmate, showed Melvin a piece of bologna. I like that illustration because James and Margaret showed Melvin all the deli meats to see what Melvin's weakness was because every superhero has one.They tried many meats and then they found it, bologna. Then Melvin said, "Can't...move...get...me...out...of….here. In the picture, Melvin was holding his heart and was in a lot of trouble. That's why I really liked this book.
I would recommend this book for grades 2-4 because it's a book that is easy to read. The book also gives the message to never give up because Melvin never gives up when he was trying to fly or when he was tied up and weak because of bologna, his weakness. I would give a compliment to the illustrator, Rhode Montijo because all the pictures match the text. I give this book 5 out of 5 stars.