Lulu and the Brontosaurus
Written by Judith Viorst
Illustrated by Lane Smith
Reviewed by Henry P. (age 8)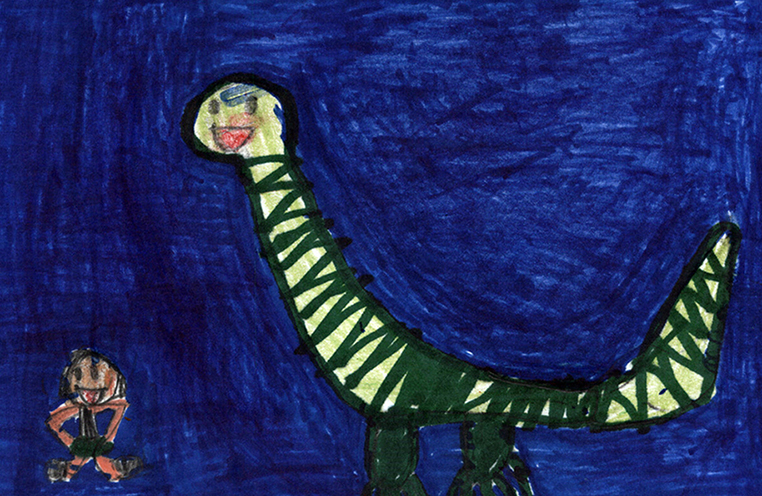 Lulu and the Brontosaurus by Judith Viorst is about a young girl named Lulu who really wants a Brontosaurus for her birthday. Lulu asks her parents for a brontosaurus but they say no. So she decides to pack a suitcase and sets off looking for the brontosaurus in the woods. In the middle of the book Lulu is singing really loudly in the forest. A snake hears her and the snake says "I'm going to squeeze you dead!" but Lulu squeezes the snake instead and it says, "Ow!" Lulu was yet again screaming through the forest bothering other animals and waking them up from their sleep. Each animal comes out and tries to hurt her, but Lulu hurts each animal instead. She takes a nap and finds her brontosaurus when she wakes up. Read the book to find out if the brontosaurus wants to spend the rest of its life with Lulu.
Lulu and the Brontosaurus is a great book by Judith Viorst. I think Lulu is brave because she leaves her mom and dad and sets off on a dangerous journey through the woods. Then she finds a bear and before the bear hurts Lulu, Lulu hurts the bear first. She jumps as high as she can then stomps on the bear's foot. That's why I think Lulu is brave. I think Lulu has changed because she didn't have as many meltdowns as she did before she left for her journey. Another reason I think Lulu has changed is that Lulu didn't ask for so many toys, candy, TV time after she came back from her journey. That's why I think Lulu has changed. I think Lulu and the Brontosaurus teaches a lesson because in the beginning if her parents say "no you can't have that!!" Lulu would have a long meltdown and she wouldn't stop until her parents said yes. In the end Lulu doesn't screech or throw herself down or kick her heels but instead she says please and thank you and says she won't have any more tantrums. That's why I think Lulu and the Brontosaurus is a book with a lesson.
I will give this book a 5 out of 5 stars because the author included lots of details. I will recommend this book for 2nd and 3rd grade because it is not that challenging of a book. I will also recommend this book for people that like nature because Lulu finds many animals in her journey in the forest. The illustrator did a good job showing the emotions of Lulu and the Brontosaurus. She also did a good job matching the words to the pictures. So that's why Lulu and the Brontosaurus by Judith Viorst is a great book.