Lulu and the Brontosaurus
Written by Judith Viorst
Illustrated by Lane Smith
Reviewed by Hadley F (age 8)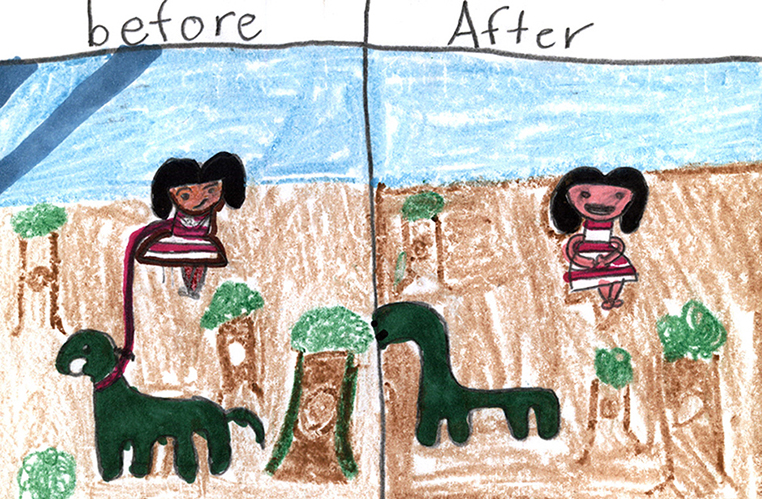 Lulu and the Brontosaurus by Judith Viorst illustrated by Lane Smith is about a girl named Lulu who wanted a brontosaurus for her birthday, but her parents said "NO". Lulu just hates hearing no, so as always when she hears no, she had a fit, a very big fit. The next day, she said to her parents that she was going to find a brontosaurus by herself. So she set off on foot into the woods. While Lulu was in the woods completing her mission, she stumbled upon a snake, tiger and a bear but nothing stopped her. Each one challenged her because she annoyed them. Lulu squeezed a snake, she stomped on the bear's toe, and hit the tiger over the head with her suitcase. All that fighting made her sleepy so she slept. When she awoke, she found a brontosaurus! Read the book to find out if Lulu gets to keep the brontosaurus.
I love Lulu and the Brontosaurus because of all the drama in the book yet it also teaches some important lessons. For example, on page 12 it shows Lulu screeching on the floor screaming "I WANT A BRONTOSAURUS FOR A PET!". Some of the illustrations are really good but one really stands out. It shows the brontosaurus finding Lulu ! The picture shows Lulu's head out of her sleeping bag looking at the brontosaurus thinking it's a dream. Then she realizes it's not a dream! There are some important lessons is this book, but one really stands out. It's that even though you want something, you can't always get it. I think Judith Viorst put it in for a reason. This is an important lesson in your life because it teaches kids that you don't always get what you want, but you can get it by yourself, or live without, but don't whine about it. My favorite scene is when Lulu squeezed the snake so hard the snake lets go. I like it because I would do the same if I was getting squeezed. I hope you like this book as much as I did when you read it.
I think Lulu and the Brontosaurus should be read by second to fourth graders. I would also give this book to people who need a lesson to learn because there are some big lessons in this book. I would give this book 5 stars.