The Great Kapok Tree: A Tale of the Amazon Rain Forest
Written by Lynne Cherry
Reviewed by Alyson Q (age 8)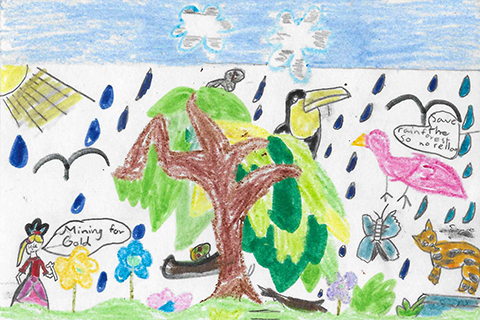 The Great Kapok Tree by Lynne Cherry is a book about why we shouldn't cut down trees in the rainforest. In the beginning there are two men walking in the rainforest. One man points to the great kapok tree and leaves the forest. The other guy starts using an ax to cut down the tree. He gets tired and falls asleep. While he is sleeping animals start talking to him and tell him to not destroy the tree. Each animal gives him a reason why he shouldn't cut down the tree. Read the book to find out if he chops down the tree or not.
The Great Kapok Tree is a great book. I really liked how the animals talked. For example the sloth said, "Senor, how much is beauty worth? Can you live without it?" He's trying to tell the man that it is beautiful and if it is destroyed it will be like a desert. My favorite picture is the one that shows the birds talking to the man. The picture shows several colorful birds, a toucan, macaw and a cock-of-the-rock, speaking in the ear of the sleeping man. I like this picture because I like colorful birds. My favorite part is at the end because the man looks around at the animals and a child and makes a decision.
I would recommend this book to readers that like to read about the rainforest because it talks about the great kapok tree and the animals and plants that live there. It tells how the tree helps animals. I give it four out of five stars.