Bunnicula
Written by Deborah and James Howe
Illustrated by Alan Danieil
Reviewed by Aaliyah B. (age 9)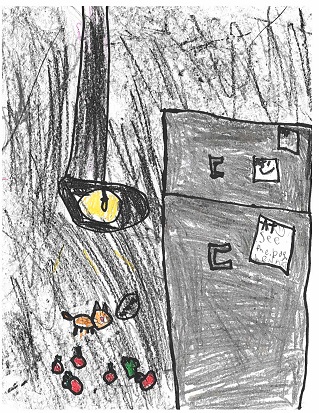 A long time ago there lived a family. And they decided to go to the movie theater and so they went. At the end of the movie, they found a bunny.they were about to leave him but he looked sad so they took him home. A couple of days later they found out that he was a vampire bunny! They named the bunny Bunnicula. Chester and Harold are their cat and dog and they are scared of Bunnicula but they are brave so they decided to go investigate because they keep on hearing weird noises in the night. So one night they went to see what was going on. When they went into the kitchen and saw vegetables laying on the floor with the juice sucked out of it they know it must be the bunny! Will he eat the family next?
One reason I like this book is that it is funny. It's funny because of Chester and Harold thinking the bunny is a vampire. it is also great because of its kind of scary just a little bit.it is scary a little bit because the bunny kept getting out of his cage at night and he has red eyes are creepy. The third reason I like this book is that I loved Harold and Chester. They like to read like me and it's funny how they are scaredy cats.
I recommend this book to people who like funny books. I also think you would like this book if you like Halloween stories. This book was set at Halloween and had creepy Halloween things. I recommend this to people who like Goosebumps books because it's creepy like those. You should go right away to your our local library and get this book.