Melvin Beederman Curse of the Bologna Sandwich
Written by Greg Trine
Illustrated by Rhode Montijo
Reviewed by Ben W. (age 9)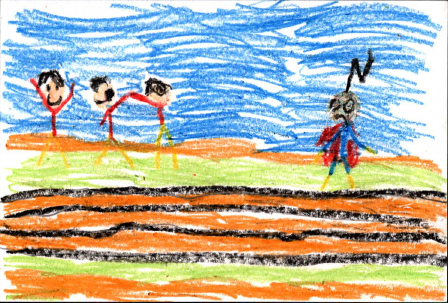 Have you ever been in a life-threatening situation where two "all around bad guys" trap you in a building that is going to be demolished in a couple of weeks with your weakness, a fatal lunch meat? You probably haven't had that experience, so you can read Melvin Beederman, The Curse of the Bologna Sandwich, where a superhero named Melvin finds an apprentice and the McNasty Brothers break out of jail and Melvin tracks them and then Melvin kicks down a window and finds… Well, I should let you read the book but I'm going to spoil it anyway… nothing!
My opinion on The Curse of the Bologna Sandwich is a good one even though it is a bit dry when it comes to details and plot. My favorite part is when Candace hugs "a guy named Fred". Fred appears at the most awkward places, so naturally he's my favorite character. Even though Melvin and Candace have super powers, and they save people, and I should be in awe of them, and yet still, Melvin loves math, but I still like Fred. Additionally I like the drawing style, with some details but not to much. It is also very cartoony, which is a style I like.
I recommend this book to ages 5-8. I also recommend this book to people who just started chapter books or people who want to start reading chapter books because it has fairly long chapters that are easy to read. Even though I have read the book 2 times I was still engrossed in it.