Three Ring Rascals:The Show Must Go On
Written by Kate Klise
Illustrated by M. Sarah Klise
Reviewed by Ella S. (age 8)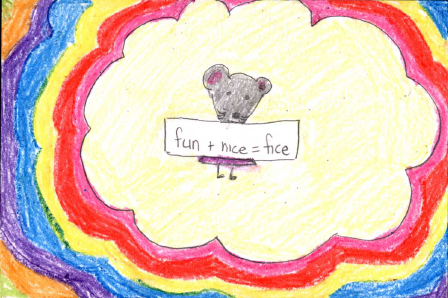 Do you like excitement and adventure? If so this book is for you. Sir Sidney is as wise as an owl but not when he hires Barnabas Brambles to take his place for a whole entire week. Barnabas Brambles got chosen to take his place for being a lion tamer. The circus crew had some problems when mean, old Barnabas Brambles tries to replace the animals with boring new animals from the Zoo and the company Cool Cats R Us. The circus crew can´t stand Barnabas Brambles for his mean actions and cruelness. They are family so they'll do anything to help make the show go on. Unfortunately two animals come down sick so it makes it easier for Barnabas Brambles to get rid of them but the circus crew won´t let that happen. Good thing they have each other to make the animals feel better. Elsa is a smart elephant she writes a detailed letter to her cousin who lives in Barnabas Brambles home area Chicago. Her cousin comes to Barnabas Brambles final performance and shows everyone a poster. It stated, Wanted: ¨Barnabas Brambles scoundrel crook and villain. Big mean baddie.¨ In conclusion don't always believe what someone says they are.
I enjoyed this book for its characters such as my favorite character Gert. My favorite part of the book is when Gert makes her fun word combinations for example fice. A fice person is fun and nice like Sir Sidney a loyal friendly boss, nothing like Barnabas Brambles he's bean=bad and mean. Additionally the illustrator M.Sarah Klise did a spectacular job because just by the illustrations you knew what was going on in the text. Also I enjoy the black and white photos when I see them I feel like they came off a sketch pad. However, the unique part is the characters in the book for example Elsa she's fun and super clumsy that's why she always…. sorry can't tell you. Finally, while I read this book I felt like I was in it what I mean by that was the book hooked me in and I could picture everything going on. To sum up this book has a pool of imagination and creativity that is what I L-O-V-E about this book.
I recommend this book to kids that are in the ages 5-9 for its funny conversations and whimsical characters such as Elsa, Leo, Gert, Bert, Dan Banana, and Stan Banana. Also Barnabas Brambles he's bean=bad and mean. To sum up I think everyone should read this book.