Galaxy Zack Journey to Juno
Written by Ray ORyan
Illustrated by Colin Zack
Reviewed by Julian H. (age 8)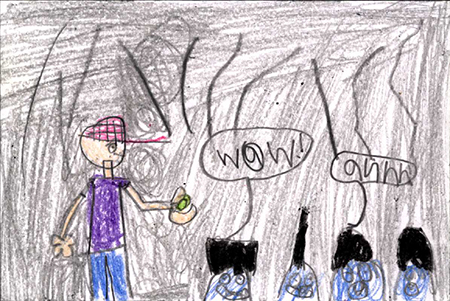 Have you ever read Galaxy Zack: Journey to Juno? Well, maybe you should. It's about a boy named Zack who loves adventure and eventually moves to a planet known as Nebulon. Soon,there was a field trip to a mysteriously discovered planet named Juno. Unfortunately, he is partnered with a bully named Seth.They entered a cave and...
I love this book because it is funny and also inspiring. It is funny because a bully said to Zach "Just take a picture of it!" and I think that is funny. It is also inspiring because it taught me a lesson:never give up. one of my favorite parts is when he becomes famous because he found a glowing green rock. When i think about the bully,i can relate to my kindergarten bully.
I recommend this book to 3rd graders and 2nd graders who love adventure and comedy. I recommend it to 3rd graders and 2nd graders because it is the right grade to get a funny sense of humor. For example, if a 5th grader read it, they wouldn't think it is funny.If a 1st grader read It,it would not make any sense.