Little House on the Prairie
Written by Laura Ingalls Wilder
Illustrated by Garth Williams
Reviewed by Memphis B. (age 7)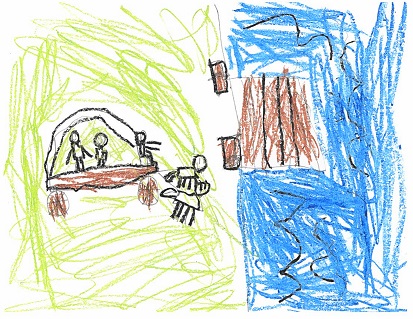 Have you ever wanted to go out West and see Indians, cowboys and prairie chickens? Then you must read Laura Ingalls Wilder's Little House on the Prairie. The book is about Laura, Mary, and their parents. They go out west in a wagon so there are not a lot of people around and they can see animals. They had to build their own house and get their own food from animals and nature. They had a good life but some bad things happened In the book, like getting chased by wolves. At one point they get terribly sick. You will have to read to find out if they survive or not.
It is a great book because it teaches about pioneers. While I was reading the book I learned how to make a well, cook on a campfire, and how to make a rocking chair. It is also a great book because it has great pictures. They are very detailed and look realistic. I really liked the pictures of the wagon crossing the river and getting to see what Pa and Ma really looked like.
I recommend this book for people that like adventures books. I recommend this book for people that like page turns, because you will be wanting to find out what happens next the whole time. Go get this book right now if you love history and old things.