Galaxy Zack Hello, Nebulon!
Written by Ray ORyan
Illustrated by Colin Jack
Reviewed by Dylan M. (age 8)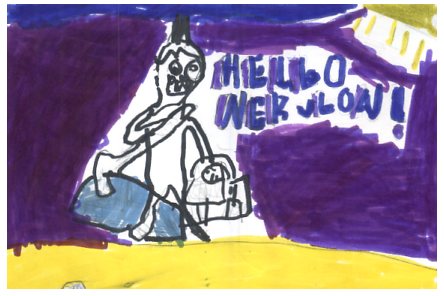 Galaxy Zack Hello, Nebulon! is a science fiction book written by Ray O'Ryan and illustrated by Colin Jack that takes place 120 years in the future. In the beginning, Zack is on his way to his new home on Planet Nebulon. Zack does not want to leave his home on Earth, but his dad got a new job on Nebulon so Zack, his two sisters Charlotte and Cathy and his mom must move. Zack is upset the whole trip to Nebulon and even has a bad dream about his new school. When Zack and his family land on Nebulon, his dad's new boss greets them and the first thing they do is get a new car. When his dad tells him to pick one out, all he sees is rows of small boxes. His dad tells him to pick his favorite color so he chooses a green one. When he presses the red button on the box, it turns into a green Nebulon car. They drive home and check out their new home. His house has lots of cool gadgets and a personal assistant named Ira who gets him everything he needs. Even though he had the bad dream about school, he ends up liking it because the teacher was from Earth and he made a new friend, Drake. Later on his friend Bert from Earth sent him his dog Luna and he was very happy. Things are better and his house is really cool, but he still misses Earth. Read the book to find out if Zack ends up being happy on Nebulon.
I think Galaxy Zack Hello, Nebulon! is an outstanding book. My favorite part is when Zack checks out his new room because the author talks about all the really cool things that might be available in the future. Everything is his favorite color, green. He has a huge desk with a computer touchpad built right in. The whole wall is a giant view screen that said, "Hello Zack." Ira, his personal assistant, set the temperature for his shower and woke him up to his favorite song Rockin'Round the Stars by Retro Rockets. The book also has really descriptive illustrations. My favorite illustration is on page 101. It really gave me more information about what was going on in the book. In the picture, Drake and Zack are riding their bikes, but Zack is riding and Earth bike and Drake is riding a Nebulonian bike that you don't have to pedal. All he had to do was push a button to make it move. Drake is way in front and smiling and Zack is out of breath far behind. My favorite character is Zack. I like Zack because he's the main character and most of the action is around him and we also have a lot in common. We both love pizza, dogs and riding bikes. Zack is brave. Even though he had a bad dream about school, he still goes, and enjoys learning about the history of Nebulon at Sprockets Academy. He even makes a new friend.
I recommend this book for second or third graders and readers who like to read science fiction stories since it takes place 120 years in the future on a different planet. It's also good for kids who have to move to a new place since Zack has to get used to a new planet. If you read the book, I hope you like it as much as I did.