Nancy Drew and the Clue Crew: Case of the Sneaky Snowman
Written by Carolyn Keene
Illustrated by Macky Pamintuan
Reviewed by Frankie H. (age 9)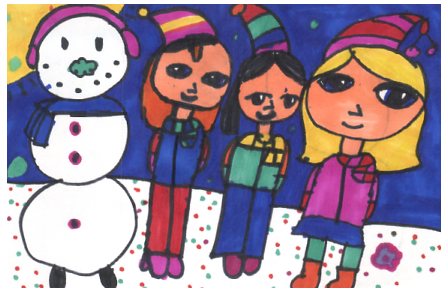 Do you like mysteries? If you do, then you would like Nancy Drew and the Clue Crew Case of the Sneaky Snowman by Carolyn Keene and illustrated by Macky Pamintuan. In the beginning, Nancy, Bess, and George decide to go to the park to build a snowman because they are on winter break. They name their snowman Sherlock. Sherlock has a broccoli nose, dog kibbles for a mouth, Nancy's old blue scarf, earmuffs Bess had built out of two white powder puffs, George's dad's old boots and a plastic headband. Before Nancy, Bess, and George leave Sherlock to get to some hot chocolate, a snowboarder almost crashes into Sherlock. On their way across the park, they come across a purple and gold tent. Standing in front of it was Toby, their classmate, wearing a cape and turban when he is usually wore a sweatshirt and sneakers. On the tent there's a sign that says, "Hot Chocolate for $1.00." "Sweet!" George exclaims. Inside the tent there's a fortune teller, Madame Chocolata who was really their friend Deirdre. Deirdre predicts the future by reading hot cocoa marshmallows. She predicts their snowman will walk away. They think it's silly but the next day when the Clue Crew meets up at the park, Sherlock is gone. All that was left are bootprints. The Clue Crew spends the rest of the story figuring out what happened to Sherlock. If you want to know what happens to Sherlock, read the book to find out.
I think Nancy Drew and the Clue Crew Case of the Sneaky Snowman is and outstanding book because it kept me guessing. Carolyn Keene has hints that make you wonder what will happen next.All the words meet up with the pictures like magic. All the clues made me think that the snowman, Sherlock, was actually alive. The footprints in the snow, the blue strands of yarn and last, but not least, the strange messages that say, "Gotcha! The Snowman," kept me guessing all the way through. One hilarious illustration is when Nancy, Bess, and George get hit with icy, eggy snowballs. They looked shocked. In the picture, Nancy and Bess are covering their heads with their arms, their eyes are wide and their mouths are hanging open. George was watching and said, "Gross, I'm never eating scrambled eggs again!" If you like terrific illustrations, the Nancy Drew and the Clue Crew Case of the Sneaky Snowman is for you. My favorite part is when Deirdre is telling her friends their fortunes in a tent outside in the park on a snowy day. Deirdre announced Nancy's fortune first. She said, "I see a pizza in your future. A large pizza with extra cheese." I like this part because she ended up having pizza for dinner even though she usually only has pizza on Saturdays. It made me wonder how Deirdre predicted the future. Those are the reasons I enjoyed this book.
I recommend this book to people who like persistent characters. I think that because the Clue Crew doesn't give up until they find out what happened to Sherlock. If you like mysteries and enjoy guessing who the culprit it, like I do, you will love it. I also recommend this to readers who like challenging mystery books because when you think you have solved the mystery, you haven't yet. That is why I give this book five stars!