Arthur and the Lost Diary
Written by Marc Brown
Reviewed by Danielle R. (age 8)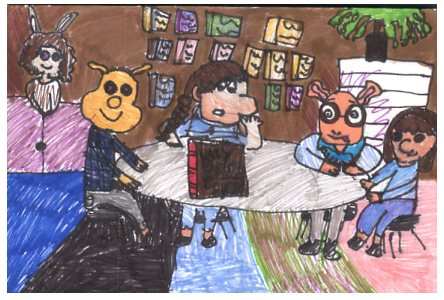 Sue Ellen and her friends are in the library looking for books for their assignment. When Sue Ellen is walking to put her books down, she loses her diary but doesn't know it. She looks for her diary and doesn't see it there. Her whole life is in her diary. It says "Private" on it, but Sue Ellen is worried that her friends will find it before she does, and read what she said about them. So Sue Ellen tells Mrs. Turner, the librarian, and Mrs. Turner tells her not to get upset and that she will help Sue Ellen find it. After that, Sue Ellen tells Francine that she lost the diary and that she wrote things about everybody in the diary. Then Francine tells Muffy. Muffy says that Sue Ellen probably wrote about Francine because Francine pushed Sue Ellen in the mud last week and laughed. Francine starts to imagine all the terrible things Sue Ellen wrote about her. Muffy tells Binky that Sue Ellen lost her diary, and then Binky tells Arthur that Sue Ellen lost her diary. Francine, Muffy, Binky, and Arthur are worried so they look around the library for the diary. Arthur finds the diary and they all talk to see if they should read it or not. They want to read the diary, but they don't want to open it in case they get caught. They think about different ways the diary would open without them touching it. You should read this book to find out if they read the diary!
I like this book because it's exciting because there is a mystery in the book. I wanted to keep reading to find out if Sue Ellen finds her diary. I like the characters because they are good friends. They were a team trying to find Sue Ellen's diary. I like the author's style because he wrote what the characters were imagining in a different font.
I recommend this book to kids who are ages 7, 8, and 9 who like mysteries. I think kids who like books with animals who act like humans would enjoy this book.