Humphrey's Mixed-Up Magic Trick
Written by Betty G. Birney
Illustrated by Priscilla Burris
Reviewed by Nemi J. (age 9)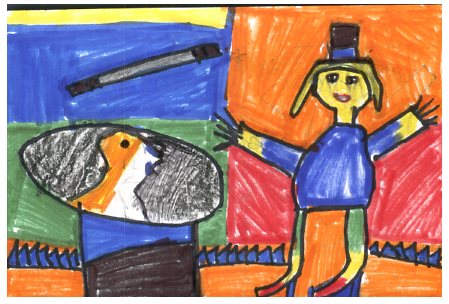 Humphrey is a hamster and a class pet. He normally lives in Room 26 in Longfellow School, but every weekend Humphrey goes home with a classmate or two. He also has a friend named Og who is a frog and also a classroom pet in Room 26. On this Friday afternoon, the homework is to choose what you want to be when you grow up. The students have to do a report and they have to dress up as the person that they want to be when they grow up and wear that to school on Monday. Some of the things his classmates want to be are soccer player, doctor, and teacher. Miranda wants to be a magician, but A. J. says that Miranda can't be a magician because A.J. thinks that girls can't be magicians. But that doesn't stop Miranda. On Friday afternoon, Miranda gets to take Humphrey home because Miranda wants to do a magic show for her report with Humphrey as her assistant. At home, they practice for their magic show. Some of the tricks they do are the bead trick, the coin trick, and the card trick. Humphrey wants Miranda to have a successful magic show so she can maybe become the first famous female magician. On Monday, everyone in Room 26 comes to school dressed up as the thing they thought they wanted to be when they grow up. Sayeh does the first presentation. She was a veterinarian. Kirk and Seth come next. Miranda is going to do her magic show after lunch. Then, when the magic show is about to start, Miranda drops a bead from the best magic trick and doesn't know it, but Humphrey does! Will Humphrey find a way to get the bead and give it back to Miranda in time? Well, you'll have to read this book to find out what happens!
I like this book for many reasons. I like that Humphrey is thinking of jobs he wants to be when he grows up because I think it is very creative and fun. Some things that Humphrey thought of are Family Pet, Hamster Star, and Cheering-Up Hamster. I also like that sometimes the author uses some words three times because it describes what Humphrey is really feeling. For example, Humphrey says, "That made me feel MUCH-MUCH-MUCH better" and "NO-NO-NO!" One of the main reasons I chose to review this book is that I love magic tricks and this book is about a kid who also likes magic.
I recommend Humphrey's Mixed-Up Magic Trick to kids who like magic and short chapter books. In my opinion, kids ages 7 to 10 will like this book. If you have read other books in this series, this is a good book for you because I've read most of the books and this is one of my favorites.