Heidi Heckelbeck Casts a Spell
Written by Wanda Coven
Illustrated by Priscilla Burris
Reviewed by Carlos Z. (age 8)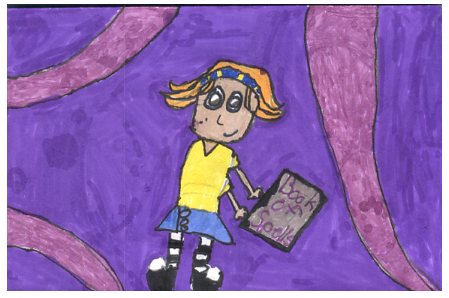 Heidi Heckelbeck is in second grade. Heidi, her mother, and her grandmother are witches. Heidi wants to cast a spell on Melanie Maplethorpe to make her forget her lines in the school play because Melanie is always mean to her. Melanie calls Heidi stinky and gives her five mean looks for no reason! She draws a jack-o-lantern on Heidi's self-portrait and she gets Heidi cast as a scary apple tree in the class play. Heidi needs the ingredients for the spell so she first looks all over the house. At breakfast, Heidi asks for cornflakes and gets herself some salt because they are on the ingredients list. Then Heidi goes to school, and on the bus she sees Bruce Bickerson. Bruce has a dog so Heidi asks for a dogtooth because it is on the list. After school, Heidi goes to her aunt's house and finds the catnip, which was also on the list. But later, Heidi forgets about casting her spell and has some fun. But during rehearsal, Melanie knocks into Heidi on purpose. Heidi falls down and is furious. Melanie laughs. After that, the spell was back on! Heidi rushes and gets the rest of the ingredients. Now she has everything she needs to cast her spell. So she goes to the bathroom at the play. Heidi carefully puts the ingredients in a pail and chanted the words of the spell, "Oh special juice, let your powers loose! Help me quickly; show me soon the signs. Make Melanie Maplethorpe forget her lines!" What will happen to Melanie? You should read the book to find out!
I like this book because it is entertaining and it made me want to keep reading because in the beginning, when Heidi wants to cast a spell on Melanie, I wanted to see what happened to Melanie. My favorite part is when Melanie knocks Heidi over because Heidi had decided not to cast the spell, but when Melanie did this, Heidi decides to get the rest of the ingredients to finish the spell. When Heidi was rehearsing for "The Wizard of Oz" play, it reminded me of when I was in the "A House for Hermit Crab" play in second grade. That connection was very special to me.
I recommend this book to boys and girls in second to fourth grades. If you like books that keep you in suspense, this book is for you!