Heidi Heckelbeck Has a Secret
Written by Wanda Coven
Illustrated by Priscilla Burris
Reviewed by Maya T. (age 8)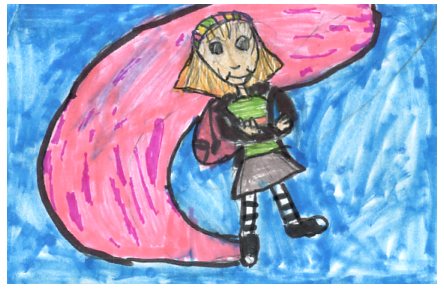 Heidi Heckelbeck wakes up in a grouchy mood because she doesn't want to go to school. It is her first day of school ever. Her mom had always homeschooled her and her brother Henry. Next, Heidi goes to school. Heidi's school is called Brewster Elementary. When Heidi arrives at her classroom, she looks around. She meets Melanie who is a meanie. Melanie ruins Heidi's painting and Heidi gets really really sad and mad. In the school play, "The Wizard of Oz" Heidi is happy she doesn't have to be in it, but then Melanie tells the teacher to make Heidi a tree in the play. Heidi is really angry and tries to think of an idea to get back at Melanie. Read the book to find out if Heidi's idea works!
I think the dialogue in this book is funny. For example, Henry says, "Wow, she must have a smelly problem. I'm sure Melanie is smelly. The name Princess Smell-a-nie was perfect." I like the illustrations in this book because they are detailed. For example, in the illustration where Heidi meets her principal, Mr. Pennypacker, the illustrator didn't have to, but she included kids in the background and I think it's cool that she did. My favorite character is Lucy because she is the first kid who was nice to Heidi.
I recommend this book to kids in second and third grade because it is easy to read and Heidi Heckelbeck is in second grade. I think you will like this book if you like the other Heidi Heckelbeck books. If you have ever been to a new school, you'll enjoy this book because you will understand how Heidi feels.