Arthur Locked in the Library
Written by Marc Brown
Reviewed by John L. (age 9)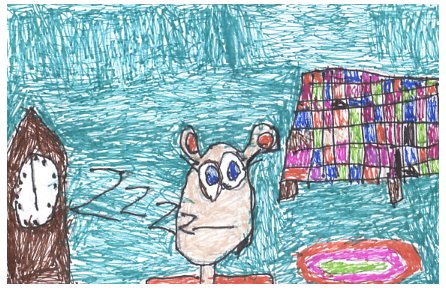 In the beginning of this story, Arthur calls Francine, a girl in Arthur's class, a marshmallow because her sweater looks like one. Arthur is assigned partners with Francine to research a real hero. They have to write a report on the hero they choose. Francine wants to meet Arthur in the library to do the research. Ms. Turner, the librarian, gives them a suggestion to research Joan of Arc. Then, she tells them the library closes at 5 o'clock. Arthur and Francine split and go to find a book about Joan of Arc. Arthur falls asleep. The clock strikes 6 o'clock. Francine is wearing headphones so she cannot hear. Arthur wakes up. He is scared. Arthur and Francine find each other. They are still mad at each other. They realize it's Saturday and the library is closed until Monday. Arthur and Francine try a few ways to get out. They try climbing on a pile of books to get out the window, looking for a book on how to escape from the library, and calling Francine's mom. Muffy calls the library and Francine tries to tell her that they were locked in the library, but Muffy thought she called Francine instead of the library, so she hangs up. Will Arthur and Francine get out of the library or will they stay there all weekend? Read the book to find out!
My favorite part of this book is when Arthur is reading about Joan of Arc and he imagines he is the British fighting the French. I like it because I really like history and that seemed interesting to me. I was surprised by the ending because I didn't expect that the story would end that way. In the beginning, when Arthur was walking down the hallway and someone behind him yells, "ARTHUR READ!" I wondered who it was and it made me want to read more.
I recommend this book to kids who are in second grade and who like suspense because Arthur and Francine are trapped in the library and you don't know if they will escape. I also think boys and girls who like the genre realistic fiction would like this book.