Humphrey's Creepy-Crawly Camping Adventure
Written by Betty G. Birney
Illustrated by Priscilla Burris
Reviewed by Cadence K. (age 8)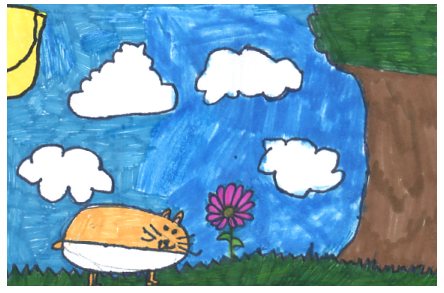 Humphrey is an adorable, loving classroom hamster who has a BIG imagination for one little furry hamster. In this book, he goes home with Heidi and they camp out in Heidi's backyard with the girls that are in Room 26 in Longfellow School. That's where Humphrey is a classroom pet. Humphrey is scared of snakes and can't stand arguing. Richie, Art, and Seth, the boys from Room 26 are camping out next door to Heidi. The boys try to scare the girls to prove that the girls are scaredy-cats. The boys say that they are not afraid of anything. They scare the girls with a plastic snake! Humphrey does not like that the boys scared the girls. When the girls go inside to get ready for bed, Humphrey tries to come up with a plan to scare the boys! Will Humphrey come up with a plan to get back at the boys before the girls come back? Are the boys really scared of nothing? Read the book to find out!
These are many reasons why I like Humphrey's Creepy-Crawly Camping Adventure. I think that Humphrey is a cute and funny character. He thinks about others and is a caring hamster. He is curious and likes exploring the outdoors and places he has never been before. The author likes writing Humphrey's dialogue three times in capital letters to help the reader understand his feelings in a more powerful way. For example, "I am HAPPY, HAPPY, HAPPY!" and "YES, YES, YES!" I think that it is really cute and enthusiastic. In the beginning of the book, Gail sees a spider and jumps out of her chair. I think I would do that, too, if I saw a spider.
I recommend this book to kids who are in elementary school. I think that kids who like short chapter books will like this book. If you like the series According to Humphrey, this is a good book for you!