Heidi Heckelbeck Has a Secret
Written by Wanda Coven
Illustrated by Priscilla Burris
Reviewed by Dario C. (age 8)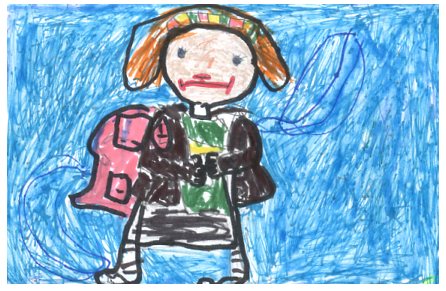 Heidi is getting ready to go to school at Brewster Elementary School. She had never been to school. She was homeschooled and she was nervous. Heidi was worried that her teacher would be mean or that she wouldn't find her way to the bathroom. Heidi gets to the school and she meets the principal, Mr. Pennypacker, her teacher, Mrs. Wellington, and her classmates. Heidi is shy. Then, a girl named Melanie was mean to Heidi. Melanie painted on Heidi's self-portrait in art class. Heidi also met a girl named Lucy who was nice to her. Lucy told Heidi about the school play, "The Wizard of Oz." At play practice, Melanie tells the teacher that Heidi should be a scary apple tree in the school play. Heidi didn't want to be in the play but then she knew she could throw apples at Melanie and that made her feel better. Will Melanie still be mean to Heidi? You should read the book to find out! I hope you enjoy Heidi Heckelbeck Has a Secret!
I think this book is funny when Henry tells Heidi if Melanie smells you could call her "Princess Smell-a-nie." My favorite part is when Heidi makes friends with Lucy because it's a happy part because Heidi has a friend. I think Melanie doesn't act well in the book, but she's an important character because she is a big part of the problem in the story.
Heidi Heckelbeck Has a Secret is a really funny book, so if you like funny books, this will be a good book for you. I recommend this book to kids who don't like school because Heidi Heckelbeck doesn't like school and kids might connect with her.