Humphrey's Pet Show Panic
Written by Betty G. Birney
Illustrated by Priscilla Burris
Reviewed by Valentina A. (age 9)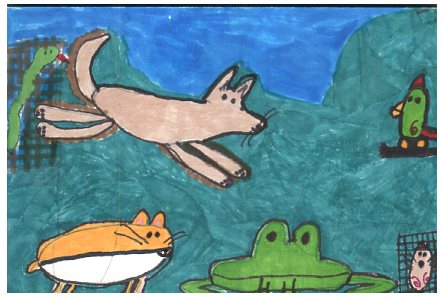 Humphrey is a hamster who is a classroom pet in Room 26 of Longfellow School. Each week, on Fridays, a student gets to take Humphrey home for the weekend. This weekend, A.J. is taking Humphrey home. A.J. and his family take Humphrey to a pet show. Humphrey is hoping that he will win so A.J. isn't sad if he doesn't. When Humphrey hears all the commotion going on inside the pet show, like dogs barking, and cats meowing and hissing, he is glad that he is safe in his cage. A.J. sees other classmates, like Sayeh, Richie and Garth at the pet show. The judges look at some of the cats. Humphrey is glad he is away from that section because he's afraid of the noise. Then the Parade of Poodles begins. Humphrey sees ferocious Clem being led by one of A.J.'s classmates named Miranda. After the Parade of Poodles finishes, the judges come to see the other pets like Humphrey and Og the frog, Humphrey's friend. Humphrey does tricks for the judges while Og has a staring contest with them. After this, Humphrey wants to see the interesting pet, Nick, who is Richie's pet, so he unlocks his lock and runs across the table to see Nick. At that moment, a cat jumps through a big hoop. Clem chases after the cat. Clem smells Humphrey out of his cage and runs towards Humphrey. This is where all the panic starts! Humphrey runs to his cage, but he isn't fast enough. Humphrey jumps on Clem's head and so does Og. They fall to the floor with Clem chasing them! Will Humphrey and Og escape, or will Clem catch up to them? You will have to read the story to find out!
There are a lot of reasons why I love this book. I like how the author, Betty G. Birney, makes Humphrey call the classmates different names like Stop-Giggling-Gail and Speak-Up-Sayeh. I like this because some of these names made me laugh a lot like Don't-Complain-Mandy-Payne and Repeat-It-Please-Richie. I also like how Humphrey calls the lock to his cage, the "lock- that-doesn't-lock." It's kind of funny that he calls it that because it's a lock but he knows how to get it open. I also like how Humphrey gets into trouble in this book because of the lock-that-doesn't-lock. I like the illustration on pages 64 and 65 because it shows Humphrey and Og running through people's feet trying to get away from Clem. I like this illustration because it shows the other pets in the background. My favorite pet in the background is the bunny that is looking so cute and staring at Og. I bet the bunny is thinking "I want to hop with you, too, Og!"
I recommend Humphrey's Pet Show Panic to kids in second and third grade who like books with animals who talk in them because when Humphrey and Og talk to each other in "squeaks" and "boings", it sounds a bit funny.