The Arctic Patrol Mystery # 48
Written by Franklin Dixon
Illustrated by Franklin Dixon
Reviewed by Joey B. (age 10)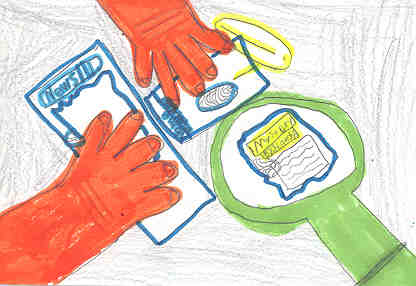 Where's the mystery? This Hardy Boys book is about three boys Joe, Frank, and Chet who are detectives and they solve many mysteries. When they hear that one of the NASA astronauts is missing and that he was last in Antarctica, they head straight there. But when they get there, many strange people follow them. Then the boys put on disguises and try to follow the strange people. They try to disguise themselves well enough so that they don't notice, but the bad guys trap them in boxes. If you want to find out how they escape and find the missing astronaut, then you'll just have to read the book.
You will probably think this book is cool because it keeps you interested. You will always be guessing to find out who the bad guys are. This book is suspenseful because you never know what will happen next.
I think this is an exciting and interesting book. If you like mysteries, books, and problems to solve you will have trouble putting this book down. Also if you like Franklen W. Dixion books you will enjoy this book.
The End.