EllRay Jakes is a Rock Star!
Written by Sally Warner
Illustrated by Jamie Harper
Reviewed by Christopher P. (age 9)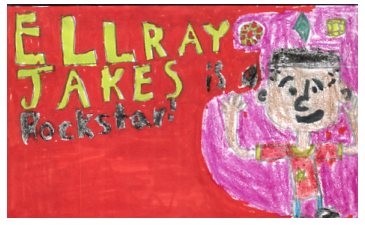 In EllRay Jakes is a Rockstar by Sally Warner and Jamie Harper, everybody is bragging about their dads. EllRay steals his dad's crystals (6) and accidentally gives them away! In the beginning, EllRay steals his dad's crystals to get "popular" and shows them to his class and gets carried away and gives them to: Annie Pat, Cynthia, Emma, Kevin, Jared and Ms. Sanchez (EllRay's teacher). In the middle, his dad finds out that his crystals are gone and EllRay admits that he did it and his dad says if he doesn't get them back in two days he will come into EllRay's class on Valentine's Day and make an announcement! Read the book to find out if he gets the crystals back! DUN DUN DUUUUUUN!!!
EllRay Jakes is a Rockstar is an amazing book! I love the illustrations because they really show how the characters are feeling. One example is when EllRay is stealing his dad's crystals he looks really sneaky in the picture. My favorite part is when Cynthia grabs the pink smelly marker and starts sniffing it and it gets on her nose! Then, everybody starts laughing at her! I like this book because the writing is really funny. In the story it says that Jared sleeps with masking tape on his hair so it will be flat!
I would recommend this book to 2nd-4th graders. One reason is because it is really funny. Also, the main character is in 3rd grade! If you think you might like this book you should get it at a library, a store or even online!